Former Mariner's charity helps families coping with disabilities 
by ERIC WILKINSON / KING 5 News
KING5.com
Posted on January 5, 2012 at 6:07 PM
In many of our Making a Difference stories, we tell you about little-known heroes in the community. But this story in about someone you probably already know, former Seattle Mariner John Olerud.
He was an All-Star at the top of his game in 2000. Money, fame, and adored by his hometown fans. Olerud had it all, but that same summer he and his family were hit with a devastating disorder.
John's daughter Jordan was born with an incredibly rare chromosome disorder leaving her unable to walk on her own, or even speak.
"It was definitely an eye opener that things don't always go the way you've planned," he said.
The Lundquist family knows that same heartache of broken plans. Their son Koby suffered a severe asthma attack in 2010, and a lack of oxygen left him permanently brain damaged.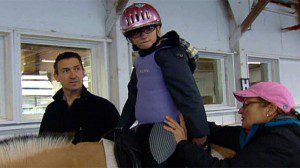 While their struggles are similar, there is one glaring difference — the Oleruds have the means to put their daughter through special therapies, like those offered at Woodinville's Little Bit Therapeutic Riding Ranch, helping Jordan make great advances.
The Lundquists couldn't even properly bathe their boy because he was too big to lift in and out of the tub, and they couldn't afford the $2,500 for a special shower. Even worse, both parents lost their jobs within 6 months of the asthma accident.
"There are some days it just bowls me over," said Saroeun Lundquist, Koby's mother. "If I dwell on it, it just chews me up."
It's that sort of inequality that inspired the Oleruds to do what they figured their daughter would want them to. They established The Jordan Fund, to help families with special needs children meet those needs.
"The help that we need just caring for her, feeding her, all the therapies — it's just the realization that, wow, this is really tough," said Olerud.
So, with the help of the Jordan Fund, the Lundquists got their new shower. Olerud says this isn't about him as much as it is kids like Koby and Jordan who inspire others to make a difference through their quiet daily courage.
The Jordan Fund has donated more than $1 million to 130 special needs families and organizations.
Update: Dan Lundquist found a new job since Koby's brain injury and the family's financial situation has stabilized.
Do you know someone who's making a difference in your community? We'd like to hear your stories about people going above and beyond to help others.
Original Story:
http://www.king5.com/news/local/Little-Bit-Making-a-Difference-136778798.html
Woodinville's Little Bit Therapeutic Riding Ranch is a wonderful organization to support — Frank KIiewer