Frank's work ethic is highlighted in the following recommendation from an individual who worked closely with Frank during his government service: "Frank's approach to challenges that are presented is clearly based on simply resolving the problem. He is able to orchestrate suggestions from all sources without attempting to take personal ownership. He truly focuses on achieving the best possible outcome for all parties. This is a man with excellent work ethics and integrity." Bob C.
——————————————————-
Email from Gilda, Jerry Brown's Chief of Staff, to recommend Frank to the University of San Francisco as an instructor: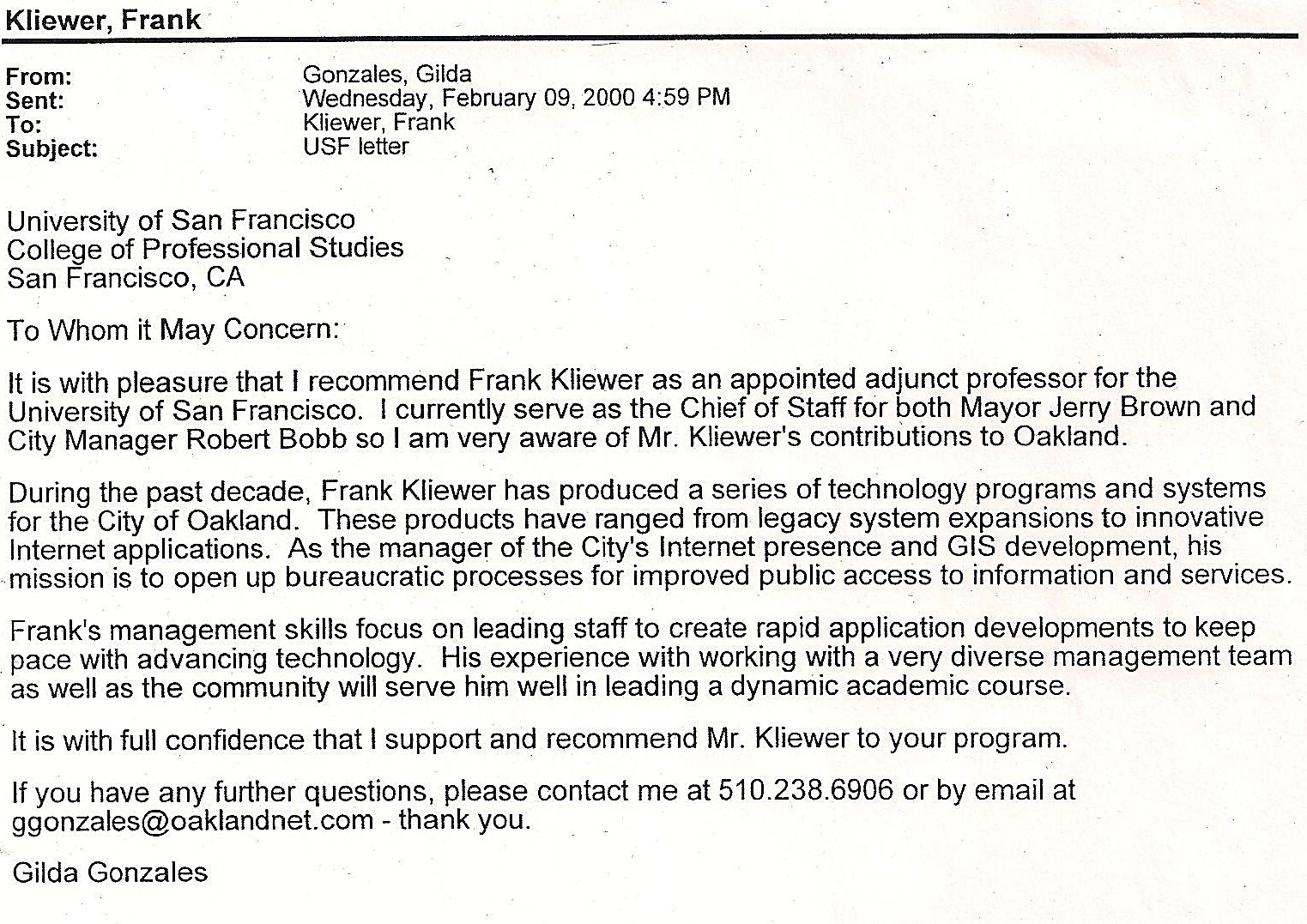 Letter from USF upon Frank's decision to relocate to the Pacific Northwest in pursuit of a series of compelling opportunities: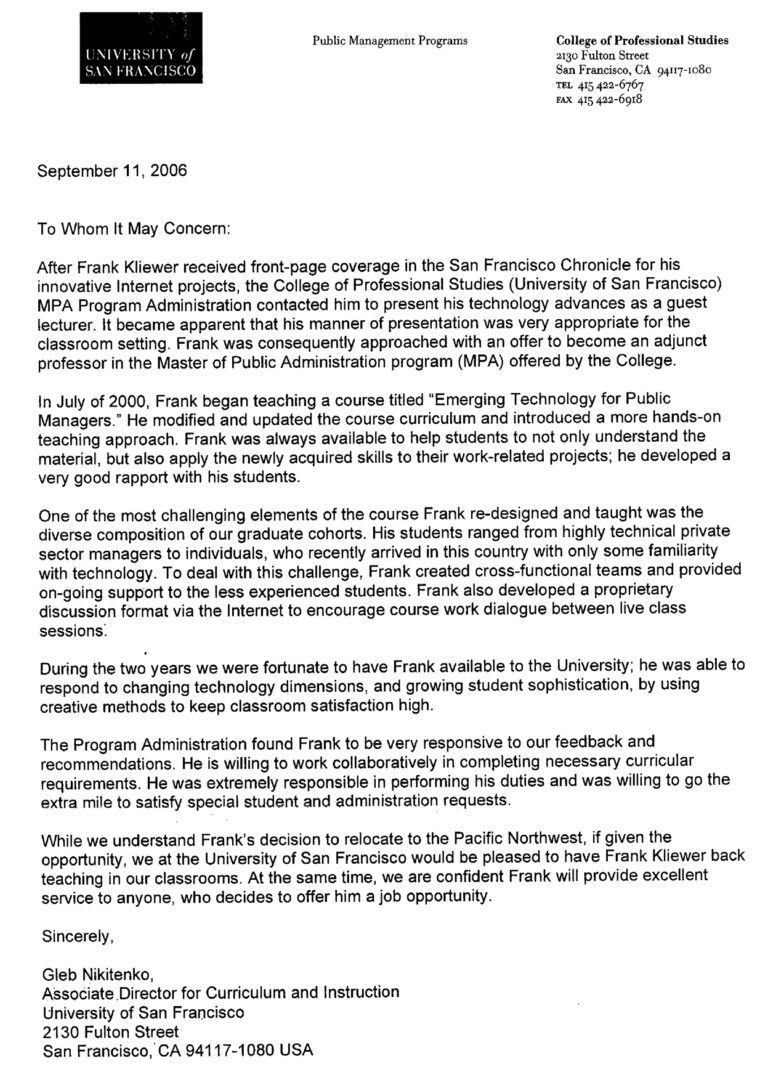 Frank developed a great respect for the work of non-profits while teaching at USF. After relocating to the Seattle area, Frank began a focus on assisting worthy causes. The following is a letter from one of his clients: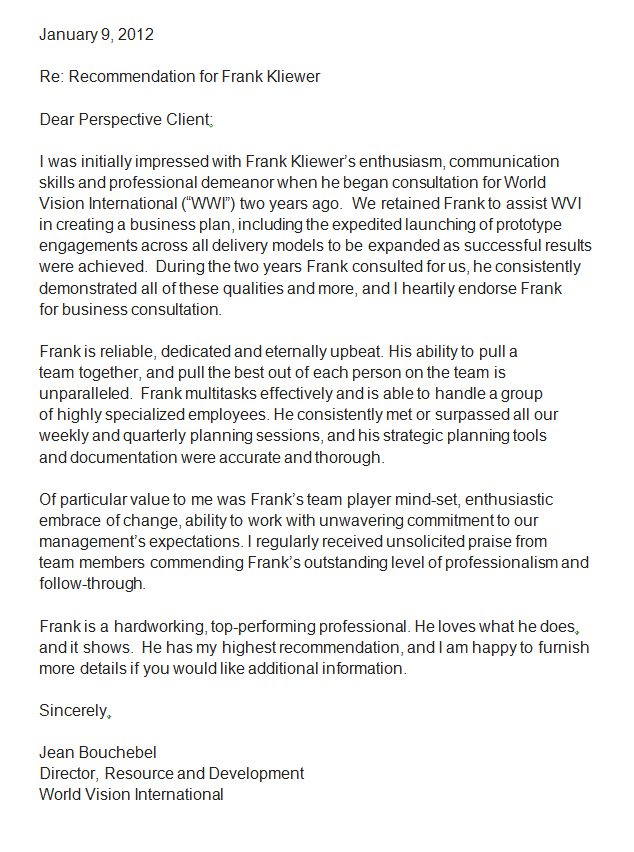 _________________________________________________________
Frank Kliewer, Best of Web site developer, delivers satisfaction as well…
From Liz Power, one of Frank's web site development clients:
To whom it may concern,
I highly recommend Frank Kliewer for his expertise in web design and production. Frank developed and designed my professional studio business website and over the course of a short period of time created an effective, productive site. I strongly believe because of his ability to create a web presence for me and my business, I have enjoyed the increase of clients and activity drawn to my business.
Frank is a great pleasure to work with and is highly compatible within a steady, easy going nature. He has been immediately available and responsive to my specific needs with my particular website and has gone above and beyond my requests at times and monitored the overall success of my website…even adding details and items at the last minute.
He also has a mind-set and focus that pursues what is specific to my needs which is a rare find in a technology age where systems and patterns override the unique individual in a self-employed business. He has the rare gift of having both the depth of intuition and the abilities of technology to accomplish what a professional individual or business requires.
I can say with confidence that choosing to work with Frank Kliewer is a positive, successful choice when pursuing an effective, growth based business.  It made a great difference in the exposure and nature of my own business.
Sincerely,
Elizabeth L. Power, M. A.
Seattle Washington
April 22, 2014
---