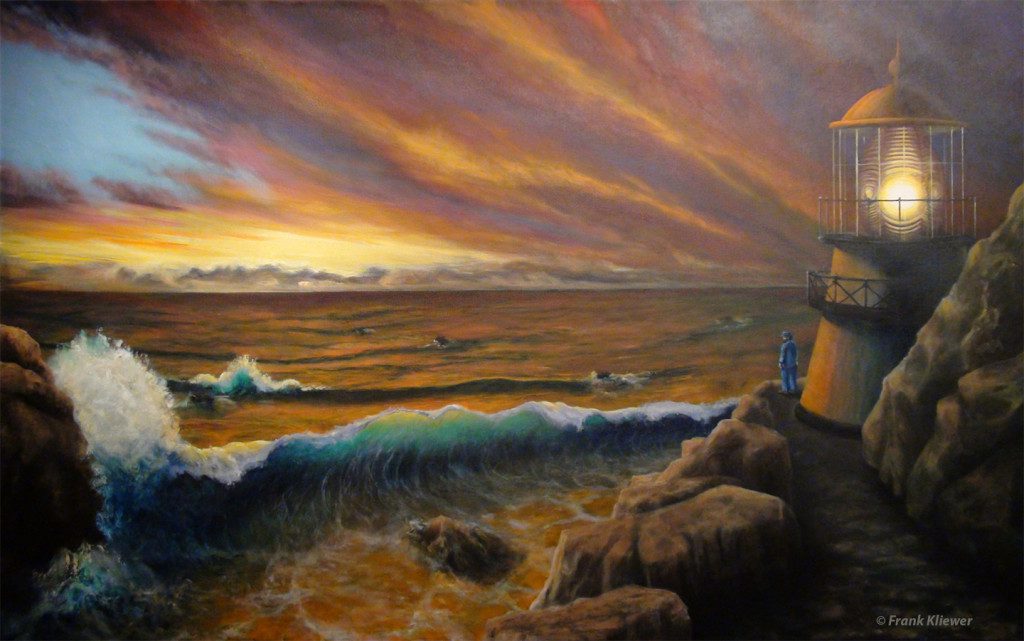 Another lighthouse re-creation painting by Frank is "Cape Mendocino Light" as the original first-order Fresnel lens is now on display elsewhere, replaced by the standard ugly electric beacon. Even the original tower is now gone, misplaced at the entrance to an entertainment center. Frank and Mary visited and sketched the various elements at their current resting places to combine them into the historic perspective presented in the painting.
In this 48" x 30" acrylic on canvas, Frank portrays a time when the original lens was in place, and  the full-on effect could be enjoyed along with the setting sun if you were to find your way down the path to the remote location at just the right time.
The Light Keeper has done well, as the light is on before sunset. He is free to enjoy the show as an enlightening experience well-earned by his disciplined work.
Ben Franklin, perhaps the most virtuous of the Founding Fathers of the United States, is often misquoted as saying "Lighthouses are more helpful than churches." What he really said in a letter to his wife on July 17, 1756 after almost being involved in a shipwreck was, " Were I a Roman Catholic, perhaps I should on this occasion vow to build a chapel to some saint, but as I am not, if I were to vow at all, it should be to build a light-house."
Franklin was an inventor, scientist, and statesman. Among Franklin's inventions was the beginning of the American society. Franklin led a life based on virtue, something almost totally lost on today's entertainment based culture. Perhaps the pendulum will swing back toward the virtue of caring about others at least as much as we care about ourselves for starters.
No matter if you agree with good old practical Ben's values, a good practice is repeating useful actions, like a Light Keeper at the same time every day, faithfully…as others might be counting on you.
Even if there are obstacles in your way, or others try to block your path, just get out there and do the right thing anyway. Most likely there will be those who will value and appreciate what you do. But, even if you are alone on your journey, it is your journey after all, so you have the power to make the right choices and find joy in those actions.